Previous
Launch Facts
You Should Know
Ranked #1 Vendor on JVZoo Platform

Top 6-10 Affiliates Always Close in 5 Figures

Over a Million Dollars In Affiliate Sales Done For Partners

Over $5,500,000 Paid In Commissions

Top 25 Affiliates Always Close in 4 Figures

Always Close 200+ Sales for Close JV Partners

JVZoo Top-3 Affiliate & Vendor - JVZoo User Of The Year 2020 & 2021

Conversions as high as 34% on Front End

Always in Top-3 on Leaderboards
Join Our JV Notification List For Contest & Launch Updates
Get Instant Commissions via JVZoo Affiliate Network
JVZoo High Performance Leader for Q1 & Q2 2020
Multiple Times JVZoo Top Performer
Introducing...
VideoDyno

is a cloud-based videos sales app that lets you quickly create a high converting video sales script using AI for ads and video sales letters for any product, in any niche by simply answering a few questions and then converting them into a video as well.
Hey!
It's Abhi Dwivedi, founder & creator of ReelApps, a powerful video creation & marketing suite.
Thank you for checking out our VideoDyno partner's page. If you don't know me, I've been an online marketer and software developer for over 14 years now, having done multiple six figure product launches, webinar promos and running multiple successful YouTube channels; on top of all the other cool things me and my team does. In the past few years I've had over 32 Best Seller software products with 10,000s users actively using and benefiting from our products.
Our products deliver real life results, they convert for our partners and our support team is 24/7 available to help our users achieve more.
What Is
VideoDyno?
VideoDyno lets you finally auto-write videos scripts that SELL and turn them into video sales letter or video ads in just a few clicks. No scratching your head, starting from scratch, no copywriting needed, no complex video editing. Click > Create > Sell.
Creating video sales letters and video ads has never been this easy. All you have to do is answer a few short questions and the A.I. auto-writes you a proven video sales scripts and converts it into fully customisable video with slides, text, images, background and more added automatically.
Spend the next few minutes customising the video as you like, add your logo, voice-over or text-to-speech and download your video, ready to be help you sell your products, services or affiliate offers.
Everyone is creating products...ebooks, video courses, software, Whitelabels and other offer...but without a video sales script written by a professional copywriter, none of that would make you money. VideoDyno solves that problem by helping you automatically create video sales letters and video ads using conversion-proven video scripts and video creation technology.
Login to your VideoDyno dashboard and pick your niche/type of video sales script you'd like to create...
...answer a few simple questions about your product, software, offer, service or whatever you're trying to sell/promote using videos…
...and your video sales script is generated by AI. Download it or click "Turn into video" button to start turning the script into a video sales letter or video ad.
VideoDyno makes it easier for anyone to truly create videos that help you sell.
VideoDyno let's you do all of these and more...
VideoDyno

let's you do all of these and more:

Create Video
Sales Scripts
Create Video
Sales Letters
Create Videos for
your funnels
Create Local
Marketing Videos
Create Video promoting
your services
Find Local Businesses
in need of videos
Commercial License
Included
Cloud-Based App.
Nothing to install
And so much more.
There are average-joe's making thousands every week simply by selling their video courses, products, ebooks, software, services etc using the powerful sales videos. VideoDyno makes it easier for even a newbies to create their first sales video and start selling online.
VideoDyno

is perfect for...
For Video Marketers
create sales videos or video ads for FB or YouTube using proven-to-convert video scripts written by professional copywriters.
For Affiliate Marketers
sell more using videos that are proven to get your viewers' attention, make them buy through you and get that money in the bank.
For Local/Agency Marketers
start helping local businesses like restaurants or gyms by creating leads and customers generating videos for their social media.
For Newbie Marketers
quickly and easily create your first sales video from scratch and start making money selling it as a service on Fiverr or freelancing websites.
For Bloggers & YouTubers
sell more to your audience using video ads and sales videos specifically crafted to turns your readers into subscribers.
At $47 for most popular license, this is a 100% no-brainer deal for your customers. Everyone needs a video that helps them sell more, get more leads, get more subscribers but not everyone can write persuasive video sales scripts and turn them into real sales videos. VideoDyno changes that. People will thank you for recommending this to them!
PLUS

to top this up, we're adding in $10,000 worth of prizes and tons of daily and speed contest throughout the launch.

If you commit to do a 3-day promo, we guarantee you will walk away with a 5-figure promo and more in prize money.
Need help with your promo?
Reach out to me via Skype @
techabhi1
Watch
VideoDyno

In Action:
21% Funnel Conversions + 20% Webinar Conversions

Everyone who mailed closing made extra minimum $500 in commissions

$60 EPA & $13 EPC

Everyone who mailed day2 and day3 made a minimum $500 commissions

Everyone who mailed twice made 4-figure commissions

Everyone who ran webinar with us made minimum $1000 commissions

Everyone who mailed prelaunch made an extra $1000 in commissions
Earn up to a staggering $179 per sales!

Over $10,000 In JV Prizes

$6,000 Opening contest

We reciprocate hard. Currently Top-4 JVZoo Affiliate

Our products & funnel convert. Guaranteed 5-figure promo if you do a minimum 3-day campaign

8-Figure copywriter onboard

Our VSL, Copy and the entire funnel converts with double digit EPCs. Our last launch FE converted at 34% to start off with.

Perfect for Video Marketers, Affiliate Marketers, local marketing, Facebook ads, ecom, social, traffic, SEO and MMO marketing lists

Established and well supported product
Battle Tested Funnel,
Designed To Convert Like Crazy!
UPSELL 1
$67
VideoDyno Unlimited +
EmailDyno
UPSELL 2
$197
VideoDyno DFY
UPSELL 3
$59
VideoDyno Business
UPSELL 4
$99
VoiceReel
UPSELL 5
$49
PlayerNeos PRO
UPSELL #1

VideoDyno Unlimited + EmailDyno
$67
The Unlimited upgrade is possibly the most powerful upgrade we've ever offered in a funnel. With the VideoDyno Unlimited, users will be able to create unlimited video scripts, unlimited video ads, unlimited video sales letter, render unlimited videos, get access to advanced social sharing features and lifetime access to EmailDyno that lets them create profitable email swipes for their email marketing. This is the most irresistible upgrade offer we've ever created.
UPSELL #2

VideoDyno DFY
$197
With the DFYDyno upgrade, your customers will get access to done-for-you scripts, videos, products, video sales letters, sales pages and more with complete whitelabel rights that they can set up and start selling immediately. They can leverage VideoDyno to create new and improved sales videos and start selling these DFY products to make profits and keep 100% of them.
UPSELL #3

VideoDyno Business
$59
With the VideoDyno Business, users will get full business features including a custom done-for-you professional looking YouTube Business Website with a custom checkout. They also get the Team & Virtual Assistant Access, Clients Access, DFY Client Contract Templates, Business Finder feature and 100+ Facebook Ad Templates.
VoiceReel is our brand new tech that helps anyone create real-human-like voice-overs for their videos in multiple different languages using A.I. VoiceReel let your users create tons of voice-overs with full control over how they will sound and an easy to use editor to edit, merge or change voice tone/pitch as they like. This is perfect for anyone creating video sales letters or video ads.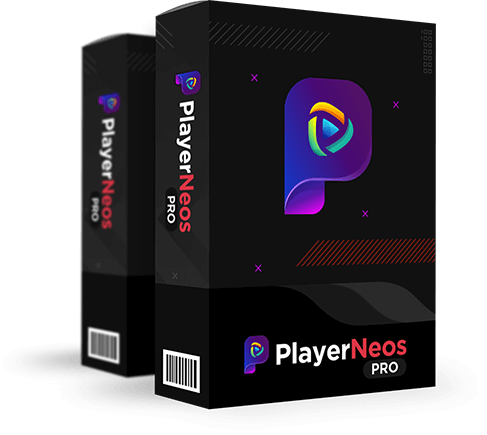 UPSELL #5

PlayerNeos PRO
$49
PlayerNeos is a cloud based interactive-video creator that helps turn any ordinary video into a sales machine. Using this your customer can add buttons, menus, buy now buttons, optin forms, new custom thumbnails, logos, watermarks and even auto-play the video on any browser. They can also find others high-traffic video and piggy back on them with their optin/buttons added.
We will send you sales like these...
and many more!
Do We Reciprocate?
I work very closing with our TOP partners and always reciprocate hard. Being a JVZoo High Performance Leader, multiple award under our belt, always finishing in top-5 of leaderboards and millions in sales done for partners, you can be assured that I've got your back. I always do over 200+ for our partners on the right product.
Every effort has been made to accurately represent our product and it's potential. Any claims made of actual earnings or examples of actual results can be verified upon request. The testimonials and examples used are exceptional results, and don't apply to the average purchaser and are not intended to represent or guarantee that anyone will achieve the same or similar results. Each individual's success depends on his or her background, dedication, desire and motivation. As with any business endeavor, there is an inherent risk of loss of capital and there is no guarantee that you will earn any money. Furthermore, certain proof and case studies mentioned on this website may not be associated with our product or service, and any results presented may not have been generated utilizing our product. Such materials are solely provided for case study and motivational purposes. We strongly recommend that all website visitors exercise their own due diligence and discretion prior to making any purchasing decisions.
By making a purchase on this website, you agree to abide by all our policies and will not be misusing our product(s) for any wrongful purposes.
Copyright © VideoDyno.com| VineaSX Solutions LLC - UAE